EMC releases survey on Canadians' perceptions of electric vehicles
October 26, 2023
Abacus Data conducted a survey for EMC about Canadians' knowledge on EVs. Only 2% of Canadians drive ZEVs, so most Canadians are unable to differentiate […]
Abacus Data conducted a survey for EMC about Canadians' knowledge on EVs. Only 2% of Canadians drive ZEVs, so most Canadians are unable to differentiate fact vs. fiction when it comes to EVs. 
The results found that once Canadians were fed accurate information about EVs, they were more inclined to purchase an EV as their next vehicle.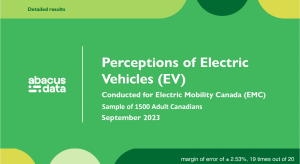 Our goals in conducting this survey:
Raise awareness about the importance of educating Canadians about EVs
Dispel some common myths / misconceptions
Highlight the fact that opinion or perception surveys that media rely on often to measure EV interest are flawed because the answers provided by the subjects are based on a lack of knowledge
We'd like to thank Abacus Data for their support in this project.
The full survey report is available to EMC members in the Member Portal.